Various Option Heating To Consider
Have you recently considered replacing radiators with underfloor heating in your home? Perhaps you are wondering which option is best suited to your home. While it is always advisable to speak to a heating engineer expert about your options, we will broadly address this topic in today's blog post. You might find that having a professional assess your property may change your initial conclusion, based on your individual home. However, there are still various factors that you could consider before taking the plunge. 
After all, underfloor heating in particular has come a very long way since its first introduction. So much so that you will be hard pressed to find a floor that you would not be able to install underfloor heating into. As a trendy and modern day solution, underfloor heating has evolved to keep up with the times. 
The Pros of Underfloor Heating
Underfloor heating has gained popularity in recent years due to all of the amazing benefits it offers. Underfloor heating is a versatile heating option that is popular for use in the bathroom and kitchens. However, this can be utilised in virtually any room in your home. Using underfloor heating instead of radiators is completely doable and comes with a range of advantages that radiators can't offer. The most noticeable of these advantages is the energy efficiency of underfloor heating. This is especially true when hydronic underfloor heating systems are used. This type of underfloor heating relies on water heating and cooling, as opposed to electricity, in order to control internal temperature.
However, underfloor heating in general offers greater energy efficiency, which means cost saving to home owners in the long run. This is important as energy efficiency is becoming an ever growing concern for UK citizens. Luckily, underfloor heating provides an adequate level of heating which works differently than a radiator, in terms of how heat is applied throughout the home.
Additional Benefits 
In terms of the method in which the heat is applied, underfloor heating systems are based on the principle of radiant heating. This just means that objects inside the room are heated, rather than the internal air itself. This results in better heat distribution, plus the prevention of air-borne diseases and common respiratory conditions. Radiators on the other hand, rely on convection heating, which can cause cold spots in a room since the heat is not distributed evenly.
Furthermore,When it comes to property design, underfloor heating is an incredibly discreet option to consider for your heating requirements. Radiators are clunky and rather unsightly, not to mention the fact that they take up a large amount of space that could be better utilized. Underfloor heating, on the other hand, offers unlimited design freedom to interior designers and architects. This is a great option when you prioritise the aesthetics of your home. 
Is There A Downside To Underfloor Heating?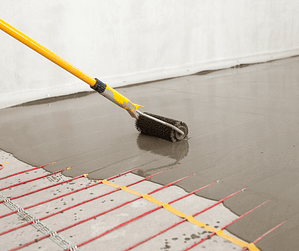 Of course, as much as underfloor heating is superior in the energy saving and heating distribution aspects, there are two main potential downsides to consider. This is simply related to the installation and initial cost involved. The installation is more complex than a standard radiator meaning that you should be prepared for the time and disruption that come with it. However, when you consider this option for the long run, the initial cost and installation are certainly worth the benefits you will receive.
Boiler Medics can help you make the switch as effectively as possible, taking the stress out of the process for you. Our expert heating engineers offer heating solutions throughout London and Essex, including emergency boiler repairs. Get in touch with us today if you are in need of underfloor heating in London. Boiler Medics can also assist you with any boiler maintenance, emergency boiler repair service or plumbing needs.