Knowing Boiler Servicing Requirements
Boiler servicing is one of those things that is, quite frankly, easy to forget about. To speak even more frankly, it is something that many new homeowners don't think about at all. That is until the boiler system starts giving you trouble. However, prevention is better than cure and that is why it is important to prioritise your annual gas safety check with a registered engineer. Don't find yourself in a position where your boiler causes a problem for your tenants due to negligence. 
It is important to note the law states that you should have a gas safety check done on all gas appliances in the home annually. You will have to keep copies of these checks which are then presented to tenants at the start of each tenancy. As part of the legal requirements of boiler servicing, copies for a certain year's safety check must be kept for 2 years after the check.
Who Is Responsible?
If you are a property owner that is renting out your property, then you as the landlord or property owner are responsible for servicing the boiler. As per The Landlord and Tenant Act (1985), landlords are responsible for keeping in good repair and working order installations that supply water, gas, electricity and sanitisation systems. In the same sense, landlords are responsible for space or water heating systems. 
Tenants are generally responsible for reporting any problems with the boiler. Additionally, when the boiler causes an issue due to specific mistreatment by the tenant. Furthermore, when a tenant has reported an issue to the landlord relating to the boiler then the landlord has to act swiftly. It is considered a hazard under UK law to have no hot water or heating in the property. Due to this, emergency repairs must be fixed within 24 hours of being reported. 
What To Expect During A Service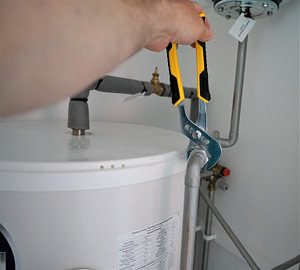 Your annual boiler service will generally consist of your technician checking your boiler and controller to access the manner in which it is functioning. As a general rule of thumb, they should have the manufacturer's instructions on hand. From here they will isolate the boiler/heating system electrically and confirm this with suitable test equipment. Additionally, there will be a check to determine that the fuse rating for the boiler/heating system is correct. It is also normal for the engineer to remove the boiler case and to visually inspect the appliance internally and externally. This is to look for any sign of distress such as corrosion, water leaks, etc. 
Your technician should also clean the boiler and its components where necessary. The next steps are to conduct the gas-rate tests and to visually check the boiler's flames where applicable. A flue-gas analysis may also be conducted. Lastly, your technician will inspect aspects such as ventilation, gas leaks, and boiler safety devices.
Expert Heating Engineers in London Following Legal Requirements of Boiler Servicing
Boiler Medics, leading heating engineers in London,  knows the ins and outs of the legal requirements of boiler servicing. Our qualified and experienced heating engineers have your back when it comes to servicing your boilers. As a landlord, it is your responsibility to ensure that you comply with the law and do your annual boiler check. This not only keeps you compliant with the law, but can potentially save you a lot of money in the long run by picking up any issues timeously. Furthermore, Boiler Medics can help you when you are in a boiler emergency. We are proud members of Gas Safe Register, giving you peace of mind that your boiler needs are in good hands.
Get in touch with us today for your annual boiler service, boiler installation or boiler emergency break requirements. Our local heating engineers team care for homes in Woodford, South Woodford and the surrounding Essex and London areas.